Christianity is not a rule driven faith or a fear driven faith. It is not a guilt driven faith. It is a grace driven faith. - Pastor Dave Eshleman, Capital Christian Fellowship, August 9, 1998

Christian Links

- Christian renewal movement founded by Friend Richard Foster.


Christianity Net - official site of Christianity Today, featuring online features of 9 Christian magazines, over 50 message boards, and 2 extensive directories of Christian Web sites.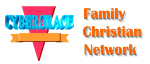 Cybergrace Christian Network - many links, free software, etc.


Bible Gateway - links to the Bible in several different translations and languages online, with search capability.


Net Ministries - Bringing Christians to the Internet and providing FREE Web pages to Christian churches, ministries, and charities.


Christians for Biblical Equality.

Promise Keepers - the Christian men's movement.


Evangelicals for Social Action
Disclaimer
Listing of a link here does not constitute my endorsement of the contents of that Web site, but merely indicates that you might find some of the material at the site useful. If you have problems with the content or the format of any site, please contact the maintainer of that site.
URL: http://www.billsamuel.net/christ.shtml